Staff

Nicky Adams
Head Coach



Nicky Adams became the head women's soccer coach at Syracuse in February 2019.

Adams is the fourth head women's soccer coach at Syracuse. April Kater (1996-2003), Patrick Farmer (2004-07) and Phil Wheddon (2008-18) were her predecessors.

Adams comes from Rice University, where she was the Owls' head women's soccer coach. She joined the coaching staff as an assistant in 2003 and then was promoted to associate head coach in 2006. The Owls received NCAA Tournament invitations in 2004 and 2005, and earned the program's first national ranking in 2006.

She was appointed interim head coach for the final 13 games of 2010. Adams guided Rice to its best conference start in program history, a 5-0-1 mark. The Owls then qualified for the Conference USA Tournament for the first time since 2008. She was named Rice's permanent head coach in November 2010.

Adams coached Rice to an 87-55-23 overall record and a 57-25-11 mark in Conference USA contests. She led the Owls to Conference USA Tournament berths in each of her nine seasons at the helm and the tournament championship in 2014. Rice shared the 2012 Conference USA regular-season title and won the crown outright in 2017.

Rice received NCAA Tournament invitations in 2014 and 2017. Adams was named the Conference USA Coach of the Year following both seasons.

Her players have earned All-Conference USA recognition 37 times, including 18 first-team selections, during her tenure as head coach. Adams has tutored the 2017 Conference USA Goalkeeper of the Year, the 2016 league defensive player of the year, the 2012 Conference USA Freshman of the Year, two Conference USA Offensive Players of the Year twice and four conference midfielders of the year.

Before her coaching career began, Adams played on the 1997 Big 12 championship squad and Big 12 Tournament title teams in 1997 and 2001 while an undergraduate at Texas A&M. She was named the squad's offensive most valuable player and was selected first team NSCAA All-Central Region three times. In 2001, Adams earned third team NSCAA All-American recognition.

The 1998 Big 12 Tournament MVP, Adams was selected first team All-Big 12 a season later.

Adams was nominated for the Herman Award, the women's soccer version of the Heisman Trophy, in 1999 and 2001. She completed her career ranked second in career goals (57), fifth in career assists (26) and third in career points (140) at Texas A&M.

The Aggies reached the NCAA Tournament's Elite Eight in 2001 before ending the season with a loss to Portland.

Adams earned a Bachelor of Science degree in Kinesiology in 2001. She was a 2002 second-round selection by the Atlanta Beat of the Women's United Soccer Association. In 2015, she was inducted into the Texas A&M Athletic Hall of Fame.



---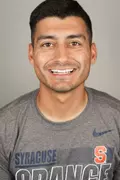 Alex Zaroyan
Assistant Coach
Zaroyan joins the Syracuse staff following a year as an assistant coach at George Washington. The Colonials were 7-5-6 last fall, a result which included a 4-2-1 finish to the campaign.

He was an assistant coach at Tennessee-Martin for two seasons, prior to his hiring at George Washington. During his tenure, the Seahawks won 17 games and captured the 2021 Ohio Valley Conference title.

Zaroyan began his coaching career as an assistant coach with the men's and women's soccer teams at Angelia College in 2019-20. Both squads earned postseason berths.

He has earned a U.S. Soccer D and Cal South E license, as well as a U.S. Soccer National C license. Zaroyan owns coaching certificates from the NCAA and Futsal with the NSCAA. In addition to his coaching experience, Zaroyan worked as a live charter and tracker with Match Analysis, tracking more than 750 hours of soccer matches in leagues and teams including Major League Soccer, Liga MX, U.S. Men's and Women's National teams, and NCAA Division I programs.

He earned his bachelor's degree in sports and recreational management at Temple in 2018 and a master's in strategic communication from Tennessee-Martin in 2022.

Zaroyan is a native of Monrovia, Calif.
---

Brandon DeNoyer
Assistant Coach
Brandon DeNoyer joined the Syracuse staff as an assistant coach prior to the start of the 2020 preseason. DeNoyer joins the Orange after spending the past two seasons as an assistant at Richmond.

DeNoyer helped Richmond go from two wins in 2018 to seven last season. He worked with the Spiders' goalkeepers, who posted a combined four shutouts, a 1.46 goals-against average and a .771 save percentage.

Prior to his stint at Richmond, DeNoyer served as an assistant coach at Mississippi State for one season, helping the Bulldogs to a 9-5-4 mark. Under his tutelage, goalkeeper Catalina Perez earned All-America honors and Mississippi State allowed just 19 goals in 18 games. DeNoyer, a native of Scotia, N.Y., also served as the top assistant at Siena from 2011-16. During his tenure, the Saints won the 2015 Metro Atlantic Athletic Conference title and earned a bid to the NCAA Tournament. In addition, DeNoyer mentored 2014 MAAC Goalkeeper of the Year, Taylor Booth.

DeNoyer played from 2004-08 at SUNY Old Westbury, where he earned a bachelor's degree in media communications and American studies. He stayed on at his alma mater for four seasons, serving as an assistant coach for the men's soccer squad and as a volunteer goalkeeper coach for the women's soccer program.

An experienced club coach, DeNoyer holds Regional, National, and Advanced National diplomas from NSCAA, and a United States Soccer Federation "D" License.